Fort Lauderdale Locksmith Service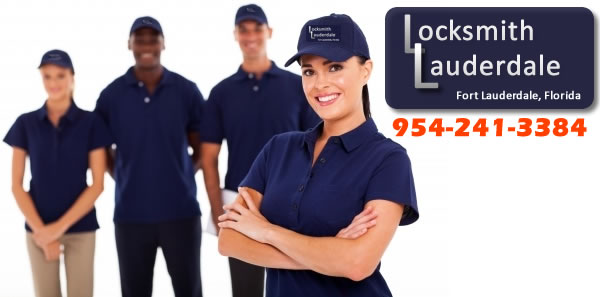 We are a full-service locksmith in Fort Lauderdale Florida. Fort Lauderdale locksmith service employees only professional locksmiths that are certified in their area of expertise and that are alcohol and drug-free. We have experts specializing in every field of locksmith security. We can help you with anything from unlocking your car door to rekeying the locks on your house, apartment or condo.
Our $19 Service Fee (Broward County Only)
Many people ask what is this $19 service fee all about? Well, many times when people call they explain their situation to us over the phone. We are told about whatever the problem may be and do our best to "guesstimate" the cost. Unfortunately, it is impossible to give an exact price over the phone. All locksmiths know that every lock is different, every car door is different, every situation is different. This makes it nearly impossible to give you an accurate price over the phone. Instead of pulling your leg and telling you can cost X amount of dollars, we will come to your location and give you a price on the spot. This is our $19 service fee.
Here's a list of our most common service calls and a general idea of price: If you have any questions, feel free to give us a call and we'll do our best to answer them.
Service Call
$19.00
The Service call is for our technician's time and gas traveling to your location, and for their high level of experience. Included in this cost is a security consultation and assessment for your needs, and exact price estimates for all lock work requested, and for any future lock concerns. 
Re-key or Tumbler combination change for Residential locks
Starting At $19 Depending on the type of lock
Re-key or Tumber combination change for Commercial Locks
Starting At $29 Depending on the type of lock
Residential Lockout Service
Starting At $45 Depending on the security level of the locks
Automobile Lockout Service
Starting At $35 Depending on the security level of the locks
Commercial Lockout Service
Starting At $55 Depending on the security level of the locks
Standard Residential Lock Change
Starting At $35* Depending on the security level of the locks
Mail Box Lock Change
Starting At $35* Depending on the security level of the locks
Standard Commercial Lock Change
Starting At $55* Depending on the security level of the locks
Grage Door Repair Or Replacement
Call For Details
Car Key Making
Starting At $120 Depending on security level of the key
Ignition Change or Rebuild
Starting At $120 Depending on the type of ignition
Key Programming to the Vehicle
Starting At $65 Depending on the type of key
High Security Keys(Lexus, VW, Audi, Honda, etc)
Starting At $160 Depending on the security level of the key
Broken Key Extraction
Depending on the time required to extract the key
Safe Unlock
Call For Details