Fort Lauderdale Car Door Unlock
Did you accidentally leave your keys in your car? Don't worry! The team at Locksmith Fort Lauderdale is here to help. Before you break your car window out of desperation, be sure to call us immediately at 954-241-3384.
Car Door Unlock Fort Lauderdale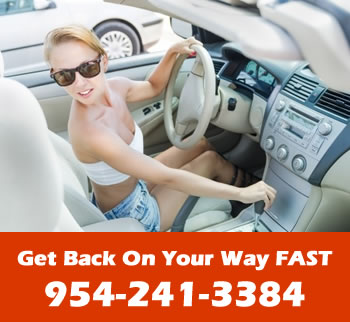 With a team of locksmiths on call 24/7, you can count on us for your car door unlock in Fort Lauderdale at any time of the day. Whether it's in the middle of the night at the grocery store or in the morning as you're about to head to work, we're Broward County's first choice when it comes to auto lockouts. Our Fort Lauderdale pop lock service has helped countless car owners retrieve their misplaced keys and get back to life as normal.
Benefits of working with our Fort Lauderdale car unlock service include:
Fast Services. We can arrive to most locations in Broward County within 15 minutes or less. But please understand if spring break traffic gets in our way!
Professional locksmiths. Each member of our team is specifically and highly trained in his area of expertise. This ensures trustworthy services time and time again.
Peace of mind. Because our locksmiths are professionally trained and certified, you can count on their ability to get into your vehicle without any damage to its windows or doors.
Fort Lauderdale Pop Lock Service
Getting locked out of your car can be one of the most frustrating things you experience as a car owner, especially if you're on your way to work or someplace important. At Locksmith Fort Lauderdale, we understand that you have things to do and places to be. This is why our locksmiths are dispatched and work to retrieve your key as quickly as possible.
Every car is different, and our locksmiths work based on the specific make and model of your car. For just $19, you can get a firm estimate on the price of a car door unlock in Fort Lauderdale. In general, most Fort Lauderdale lock pop services we perform run around $35. If you've locked yourself out of your car, give us a call today at 954-241-3384. We'll dispatch a professional locksmith to your location to help you immediately.
Auto Lockouts
If you've flat-out lost your key, we can help as well! Aside from our auto lockout services, we'll gladly replace and program keys for you for domestic and foreign cars alike! Simply call us at 954-241-3384 to learn more.